PDSA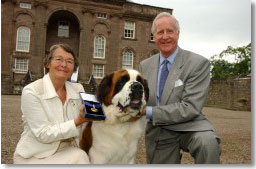 On the 22nd July 2006 at the House of Dun, Montrose, Bamse was posthumously awarded the PDSA Gold Medal for saving the lives of two crew members of the Norwegian Navy minesweeper Thorodd.

The presentation was made exactly sixty two years to the day of Bamse's death in 1944. The Gold Medal is awarded for exceptional acts of animal gallantry and devotion to duty and is widely recognised as the animals' equivalent of the George Cross. Bamse is only the ninth dog to receive the award and the only recipient from the Second World War.
Commander Erling Hafto, captain of the Thorodd, bought Bamse as a family pet before the war began, and his daughter Vigdis accepts the medal on behalf of Bamse from PDSA Chairman, Freddie Bircher.
The Montrose Society

In May 2007, the Montrose Society presented the Civic Award for
Excellence in Civic Design
, to Angus Council and the Montrose Heritage Trust.
The award recognises the quality of design and workmanship for the landscaping of the Wharf Street site and the Bamse statue.
Publicity Stories