Bamse (
pronounced Bump-sa in Norway
) grew up on the North Cape island of Mageroy at the northern tip of Norway.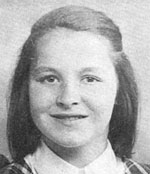 He was owned by the Hafto family who lived in the small town of Honningsvag.
Captain and Mrs Erling Hafto had four children, and when the youngest, Vigdis (pictured right), became ill, Bamse immediately showed his loyalty and caring by guarding her bedside for twelve nights and days until the crisis was over.
Here are some more stories about Bamse:
1942
1942
1942
1942
1943
1943
1944
1944
More stories to follow!!