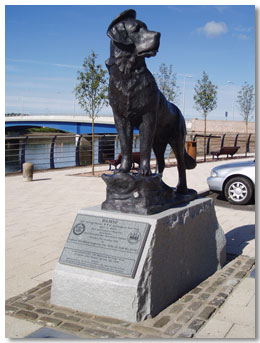 On 17th October 2006, at Wharf Street, Montrose, overlooking the natural harbour, the statue of Bamse was
unveiled
by the Duke of York, Prince Andrew.
It was the culmination of a huge
fundraising exercise
to raise £50,000 that was met with an overwhelming response from around the world and in particular, Scotland and Norway.
The Montrose Heritage Trust had commissioned the work from
Alan Herriot
, the Edinburgh based sculptor and artist, who has extensive experience of large works for public spaces.

click to see video
The
unveiling
generated much media interest, with news items shown on national TV and carried in national newspapers. The Montrose Heritage Trust commissioned a
DVD video
of the occasion.
You can see how the project progressed from start to finish by clicking on the stages below.