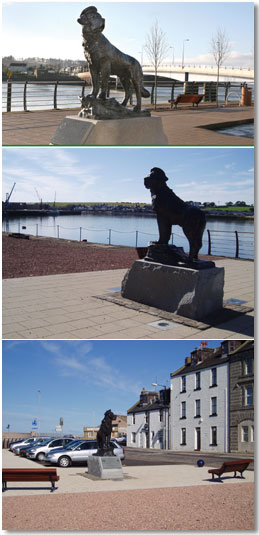 Wharf Street is a very old part of the town with tall, south facing 18th century terraced houses on one side overlooking the natural harbour area of the South Esk River.
On the water side is an area of ground which had been rather neglected, and the recent replacement of the adjacent road bridge emphasised the need for it to be renovated.
The timing was perfect for the Bamse project, and an ideal place for the statue with all the shipping connections. Discussions were held with Angus Council on the location of the statue and landscaping of the surrounding area, with a target date of October 2006 agreed for completion.
With the very tight timescale of the October unveiling it was not possible to complete the landscaping, and this was carried out in the following weeks by Angus Council as part of the £50,000 redevelopment of the site.
The uplighting of the statue was installed in April 2007 and a visitor information panel is also scheduled. The lighting, information panel and the two seats adjacent to the sculpture were paid for from the Bamse fund.
It is now a very attractive area for residents and visitors to appreciate the magnificent statue and the views over the harbour. The Heritage Trust and Angus Council were jointly commended and awarded certificates for the project by the Montrose Society as part of an annual ceremony for significant architectural and landscaping improvements in the area.