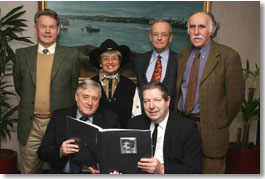 John Aiken (front right) presents the book compiled by his daughter to harbour master Captain Harry Johansen, with,back from left: MPA chairman Alasdair MacCallum, Henny King, Bamse Project chairman Dr Andrew Orr, and Montrose Heritage Trust chairman Dr Tony Sutton.
The daunting task of raising the anticipated £50,000 required for the very substantial statue of Bamse got officially underway in February 2005 with the presentation of a commemorative scrapbook on the life of the dog to the Montrose Port Authority.
They had commissioned the book after the 60th anniversary of Bamse's death, to be compiled by Seonaidh Ross, daughter of harbour board member John Aitken. The Montrose Heritage Trust had now taken on the task of erecting a statue of Bamse, and had enlisted the services of Mrs Henny King to lead the fund raising efforts.
As well as appealing to St Bernard related and other dog loving organisations it was hoped that the story would attract support from veterans associations, Scottish and Norwegian connections and the business world. It was also intended to seek grants from government and private agencies.
The response was overwhelming from all sources and sufficient sums were available within a matter of months to allow the commissioning of the sculptor and begin planning for the casting and installation stages.
To the impressive list of contributors must be added Angus Council, The Aberbrothock Charitable Trust, and Awards for All.