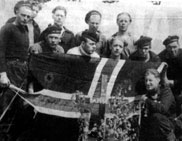 Bamse moved seamlessly from family pet to sea-dog to global mascot for the Royal Norwegian forces but in July 1944 his huge heart failed and he died. Bamse's coffin draped with the Royal Norwegian flag with his sailor's cap perched on it was carried by six of the Thorodd's crew. Eight hundred children silently lined the way and shopkeepers, factory workers and housewives turned out with them. Local dignitaries and the crew of six Norwegian ships stood guard of honour. Bamse was buried in the sand-dunes on the banks of the South Esk River.
On his 40th and 50th anniversaries in 1984 and 1994 Norwegian submarines came to Montrose to pay tribute to him. For Bamse's 60th anniversary in 2004 Montrose Port authority and Glaxo/Smith/Kline held a memorial service by his graveside in the presence of the Royal Norwegian Navy and Vigdis Hafto and son Steinar from Norway. Evelyn Le Chene in her book 'Silent Heroes' describes the effect of Bamse's death;
'Grown men who had stoically endured a cruel war, separation from their families, grave losses and exile from their country cried openly. Grief was not confined to the Thorodd it was instantly echoed far and wide, in the naval depots, on visiting ships, buses and in all local schools. There could not have been a more loving bond between two peoples, the Norwegians and Scots, than that which Bamse had created'.