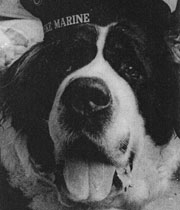 Man overboard! A life saved.
Statement by Reidar Pedersen, Royal Norwegian Navy 1942 – 1946
Dated 22nd Nov 2005
My name is Reidar Pedersen, and I served as a submariner in the Royal Norwegian Navy between 1942 and 1946. I was posted to the submarine Uredd, stationed on the North East Coast of Scotland. I am one of the few survivors of that ship, having been given leave before its final fateful voyage in January 1943.
The Uredd was often in port at Dundee at the same time as the Thorodd, and our crews became friendly, being all Norwegians. I often saw the Thorodd's ship's dog Bamse, a St. Bernard, and I was familiar with stories of his adventures. One evening in the Autumn of 1942 I was talking to a member of the Thorodd's crew on the quay-side next to the minesweeper. We both heard an almighty splash and then the sound of Bamse barking very loudly. I could not go on board the Thorodd myself to see what was happening, but I heard about it soon afterwards. A member or the crew had fallen overboard, and nobody had seen this happen. It was suggested that he was drunk, and he was soon in difficulties, as the tide was high. Bamse had seen this and raised the alarm with his barking and jumped in after the man. He struggled to keep him afloat, continuing to bark until the crew were drawn to see what had happened. But after a while Bamse was in trouble himself, because of the weight of the water in his heavy coat. Eventually the crew managed to get them to the side of the ship and to pull them safely up on board, although this must have been difficult to do, and they must have been in the water for some time.
I am willing to give this statement because I, Reidar Pedersen, am sure that Bamse saved the man's life, by raising the alarm and by keeping him afloat in the high water. This true story was well known to crews of the Uredd and the Thorodd.
ã
2006 The Montrose Bamse Project/Montrose Heritage Trust/Reidar Pedersen