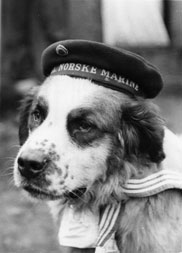 THE MANY TALES OF BAMSE: Knife Attack at Dundee! A Life Saved.
Statement by Dr. Willie Jarl Nilsen, Consultant Psychiatrist, Psychiatric Center for South-Troms, HHF Harstad, Norway
Signed 30th January 2006
My father was Lt. Commander Olav August Johan Nilsen who served with the Royal Norwegian Navy from 1940 until 1945. After the capitulation of Norway in June 1940 he crossed to Scotland with the escaping Navy. Subsequently he was posted to the minesweeper Thorodd at Rosyth as second in command to Lt. R. Cook Thowsen (?). On 14 March 1941 the Thorodd joined 71st Minesweeper Division, Dundee, operating from Dundee and Montrose. He remained with Thorodd until he was posted to command the Minesweeper Syrian in 1943 (?). He was therefore very familiar with the ship's dog Bamse, a very large St Bernard. Although my father did not talk very much about the actual war, he did tell my family many stories about the amazing exploits of Bamse. The stories about Bamse was part of the bedtime stories for me as a child. My mother, Jane Christie Nilsen, born in Dundee also had the pleasure of meeting Bamse, and was the one mainly to tell me the stories.
One particular account related to how Bamse had saved my father's life. The Thorodd was lying at Dundee docks. My father had gone on an evening walk along the quayside with Bamse following on, some distance behind him. A man suddenly appeared and attacked my father. His motive was probably robbery, and he closed in to attack my father with a knife. Bamse saw what was happening, and bounded up the quayside to the rescue. Rising up onto his hind legs he used his momentum and his great weight to push the man away from my father. Continuing to push him, Bamse steered the staggering man to the edge of the quay, and propelled him into the water below. What later happened with this man is unknown to me.
My mother has informed me that my father's life was in real danger, and that he had been saved without doubt by the quick action of Bamse. My mother often told me this story, at the latest shortly before she died in 1986. I repeated this account in a radio program about Bamse on NRK ( Norwegian broadcasting) some years ago. This was accepted as fact by our family, and is confirmed by me at this date. It was also confirmed by my older brother Carsten William Nilsen, when I last visited him in November 2005.
Finally I will reflect upon the fact that the stories about Bamse still are kept alive, without having to change the original story. I believe that the stories about Bamse has been used as stories to many children of the men of Torodd and the other naval vessels stationed in Dundee. As all parents know, it is not possible for the parents to change such stories, at the children will immediately protest to this. Therefore the stories will live in its original form and therefore as close to the truth as possible. Bamse deserves to be remembered as a positive memory about the war and the good relationship between Scotland and Norway,
Signed: Willie Jarl Nilsen, Gruveien 5, N 9475 Borkenes, Norway
Date: 1st Feb 2006
Witness: Morten Eliassen, Kronebaerveien 23B, N-9403 Harstad, Norway: Senior Psychologist
Date: 1st Feb 2006
Ó 2006 The Montrose Bamse Project/Montrose Heritage Trust/Willie Nilsen