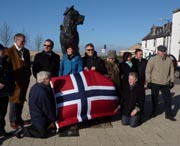 Visit of Norwegian Cultural and Trade Delegation
Thursday 18th March – Sunday 21st March 2010
Kristina Hansen, Mayor of Honningsvag Gunnar-Frank Holst, Chief Executive Nordkapp Kommune Erling Walsoe, Chairman Nordkapp Ports Per-Inge Jensen, Kommune Director of Music Lars Helge Jensen, Deputy Mayor of Honningsvag Sirpa Jensen, owner of Arctic Suvenir gift businesses.
The Montrose Heritage Trust was delighted to welcome a cultural and trade delegation from the North Cape, led by Kristina Hansen, the Mayor of Honningsvag.The developing relationship follows the erection of a statue to commemorate the St. Bernard dog Bamse by the Montrose Heritage Trust in 2006, and in 2009 the duplicate commissioned by the Nordkapp Kommune for Honningsvag, the town in northern Norway where the dog was born. The publication of the book 'Sea Dog Bamse' by authors Andrew Orr and Angus Whitson spread the story worldwide, and representatives from the Trust were invited to the unveiling of their statue and developed a warm association with this distant community. On this occasion they visited local schools and businesses, the Montrose Port Authority, and saw some of the attractions in the area. Discussions focused on possible trade and cultural links with Scotland, and the Provost and members of Angus Council were alerted to their interests at a reception for the visitors in Forfar. Honningsvag is the nearest port to the most northerly point of Norway, the North Cape, and in excess of 200,000 tourists from the cruise liners disembark each year to visit this unique area.
Dr A H SuttonChairman, the MHT.