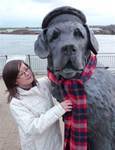 The book Sea Dog Bamse World War II Canine Hero recently leapt to the top of the bestseller charts of Amazon Kindle e-book sales. It has gained No 1 position in three categories of book sales. This followed a special offer by Amazon in its November Rainy Day Reads promotion, in which the electronic book is markeddown to just 99p.
Since its book launch three years ago the story of the famous WWII sea dog has been a bestseller, firstly as a hardback, then as a paperback and then in its Norwegian translation. In a rapidly changing world of books, Edinburgh publishers Birlinn decided to release a number of titles on Amazon Kindle in May this year. Interest and sales have been growing rapidly, and in many cases the electronic versions have been outselling the paper ones.
Co-author Angus Whitson, said "I am absolutely thrilled with this upsurge in interest in the Bamse story in its Kindle form. All writers have been looking at electronic books with bemused interest, wondering if they will really take over from established hardbacks and paperbacks. It is astounding how rapidly the book trade is changing"
The other co-author Andrew Orr, of Montrose Heritage Trust, says "It is amazing how quickly the Kindle market responded to this promotion and special offer, in just a few days. It's very gratifying to see Sea Dog Bamse at the top of the charts for books in history, but in fact interest in the story has never waned since the original book launch three years ago, and it is now selling around the world."
You can buy the Bamse e-book here.