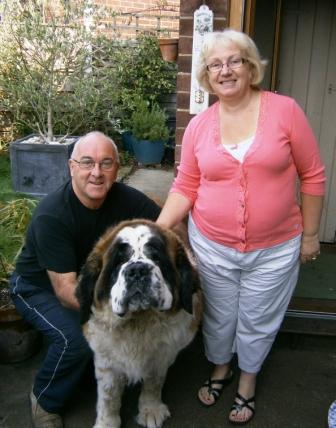 Visitors to Montrose from Knaresborough, Yorkshire have made a donation to have the lettering restored at the famous Bamse statue on Wharf Street.
St Bernard owners Tony and Elizabeth Webber became fascinated with the story of Sea Dog Bamse when they bought the book about the legendary World War II hero. In due course they were inspired to visit Montrose to see the statute at Wharf Street and the grave site at the mouth of the South Esk. The couple were very impressed by the iconic statue of Bamse, but sad to see that the lettering of the inscription had deteriorated over the five years since the unveiling ceremony in October 2006. Determined to put this right they contacted the Montrose Heritage Trust enclosing a generous cheque to have this work done.
Graeme Robertson of local firm A & J Robertson has agreed to undertake the task at a special rate in view of the couple's enthusiastic gesture.
Tony Webber said "Although Bamse was our main reason for coming to Montrose we were delighted that the information board led us to discover the Air Station Centre, which is worthy of much praise. Montrose is a beautiful town and has much to offer visitors. We aim to be back next year"
Dr Andrew Orr of Montrose Heritage Trust said "The enthusiasm of visitors such as the Webbers, and their generous donation is a great reward for the work that went into the Montrose Bamse project. We are very grateful to them and to the countless people whose interest is keeping Bamse's story very much alive. We also thank Graeme Robertson for his gesture."
Picture
"Tony and Elizabeth Webber and their 7 year old 16 stone St Bernard Toby"