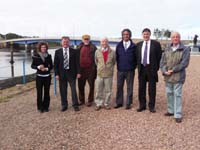 Montrose Heritage Trust unveils exciting new project to put the historic quayside of Montrose back at the heart of community
The Montrose Heritage Trust has revealed that it is to lead a funding bid with the Big Lottery Fund with the intention of creating a significant new public space on the waterfront, connecting the already established Sea Dog Bamse statue site to the new RNLI lifeboat station already under construction.
The Trust has previously been involved with the Wharf Street site in 2006 when it raised money for the Bamse statue and worked closely with Angus Council in creating the attractive improvements adjacent to the new Montrose bridge. At that time there were no funds available to continue the improvements along the whole waterfront.
Dr Andrew Orr, Chairman of the Trust, says "The Trust has always considered the Wharf Street quayside to be 'unfinished business'. It has been sad to see the new railings and paved area end so abruptly, and the water frontage effectively chained off from public access. With the new RNLI station being built it seems to be an ideal time to join everything together in a new panoramic public space for the community and visitors to enjoy. The new Community Spaces Scotland Fund is designed to help such projects and we intend to give every effort to securing money to fulfil our ambitions. We see this as being a very exciting proposal for the Royal Burgh".
Montrose Heritage Trust is joined in this bid by three main partners. Angus Council is very keen to continue the work that it was involved in originally, and is offering design, budgeting and project management help. Montrose Port Authority, the owners of the land involved, is fully supportive, and the RNLI is included as part of the integrated design concept.
Key to a successful bid for funds is involvement with the community. The Trust will be consulting and involving a wide range of community organisations, and has already made a presentation to the Montrose Together forum. Nearby Southesk Primary School has already expressed interest in the project, with pupils to be asked to contribute ideas for an 'external waterside classroom'. There will be a public meeting when preliminary designs can be discussed and ideas expressed. Any one who wishes to comment on the proposals can do so to Montrose Heritage Trust – in writing c/o 186 High Street – or on the website www.bamsemontrose.co.uk
Picture information: Pictured at the Community Quayside site are (left to right)
Anna Hondzio & Roy Madden (Angus Council) Tony Sutton & David May (Montrose Heritage Trust) Kevin Robertson (AC) Jim Raeper (Montrose Port Authority) and Andrew Orr (MHT)